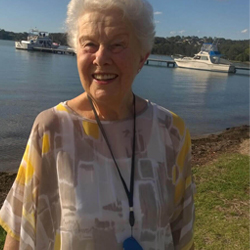 Since my husband passed away and now living on my own my family have been concerned with my wellbeing as I had a fall and of course they are frightened that I will be in danger without them knowing.
My daughter found the Life Minder which has given us all the comfort of knowing that if anything does happen my pendant will contact my family immediately.
I love it, I can now go out in my car on my own and do my shopping and meet up with my friends without the worry.
Val Hudson, Valentine, NSW.
---

The Lifeminder is a medical GPS personal safety alarm that lives up to its name and fulfils all the promises noted on the brochure accompanying this product.
I have accommodated my disabilities since birth. However, I have faced my biggest challenges since the loss of my sight and hearing, and relocating recently to live on my own, with my Seeing Eye Dog, Yoshi.
My children and other family live interstate and in regional NSW centres. They are concerned for my welfare, as I spend many hours on my own, and also have other disabilities that threaten my safety.
However, the Lifeminder personal safety alarm, which also has a fall detection function, has given me back a sense of security and measure of independence, and thus self esteem (complimented by Yoshi).
I still need to be in charge of and care for Yoshi, so the Lifeminder performs a dual role, which is reassuring.
By pressing the central SMS button on the pendant, the *SIM card in the Lifeminder allows it to act as a secondary mobile device, enabling direct 2-way communication with family and emergency responders.
My family cannot physically reach me in an emergency, so my Lifeminder pendant is also monitored by APERS (Australian Personal Emergency Response Systems). APERS has been efficient in setting up the monitoring, and thoroughly reliable in following up any monitoring issues with the Lifeminder, they have called and checked to ensure the monitoring function is still without problems, and that I am safe, on a regular basis.
My NDIS Plan has funded my Lifeminder and the APERS modest monitoring fees.
Mr John Burgess, from Lifeminder, is invested in this product, and has also been thoroughly reliable and efficient in organising the programming and delivery of my Lifeminder. He has also been conscientious in following up on any after-sales service enquiries, and has support staff on stand-by to help.
While the Lifeminder has been largely used to-date by those with epilepsy, the frail aged and isolated workers, I can thoroughly recommend it to the community with vision, hearing, and dual sensory impairments/deaf blindness as they are also among the most vulnerable amidst us.
They will find it easy to use, and will be able to quickly *send their GPS and Google Map location to their family or APERS in an emergency by pressing the central SOS button, without the need to speak or direct others to their location.
*access to the satellite and mobile network needed
Christine Napper, Mortdale, NSW
---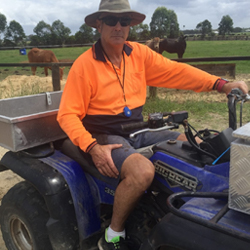 Living on the land is my life, however working long hours every day on my own has its disadvantages and can be dangerous. I am constantly around my horses and cattle, plus repairing fences using power tools and that is what my family is concerned about.
Getting around on my 4 x wheel quad bike is the only method of transport I use and I have had a couple of spills, fortunately I have not been seriously injured. I am also riding my horse in remote areas and if an accident or fall occurs I can be in trouble.
My family was concerned with my wellbeing which we spoke about quite often. My wife found the Life Minder and now insists that I wear it every day.
I must admit I do feel safer within myself knowing that if an accident such as a fall does occur that one of the family will be contacted immediately and is able to get my location via Google Map.
I strongly recommended that any person living on the land have a look into buying a Life Minder.
We hear about the many severe accidents occurring which have resulted in deaths. This little beauty will give your family and yourself piece of mind that Help is on its way.
Steve Hufnagl, Salt Ash, NSW.
---

I spend hours alone in various bush locations as an amateur photographer. and have often been concern since I had a fall. I was made aware of the Life Minder and felt that it would be perfect to alert my friends if I was in a dangerous situation When it comes to life saving devices the Life Minder is one of the best you can get. I am now able to feel safe knowing that this device will contact a friend's mobile number and help will be on the way.
Thank you, regards Robert McNeil Wildlife
---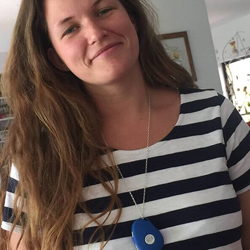 Your Life Minder has given me back my freedom. I was diagnosed with a form of Epilepsy called multi-focal dysplasia when I was 11 years old, as you can imagine it was devastating to be told this as a teenager. This condition causes me to have absence and at times Tonic Clonic seizures. I have medication morning and night but my seizures are not usually controlled.
If I was to go to a party at any age someone had to know what might happen therefore most likely ruining their time and mine. Putting me in a position that makes me seem constantly in need. Having the Life Minder allows me to go places by myself without worrying that I might get stuck in a situation that I cannot get out of by contacting a family member or a friend by the simple
press of a button.
I recommend the use of the Life Minder to anybody that suffers from Epilepsy and wants to be independent.
Alice Hamilton, Victoria
---

The Life Minder has provided our clients with peace of mind. The device is simple to use has the great benefit of not being tied to a copper telephone line.
The Life Minder has enabled our clients to go back out into the community with confidence.
THOMAS KRAMER Managing Director
---

The Life Minder has been in use since the end of August 2017. Peace of mind is invaluable and this pendant has assisted in providing another strategy to assist in the user maintaining an independent lifestyle. After the initial hiccup where we took the showerproof message literally and it was left on while showering (on reflection not a good idea ), showerproof of course means a small amount of water! The backup service is both friendly, professional and response time to any query is excellent.
Shirley Poetschka
Social Worker – Education and Training Coordinator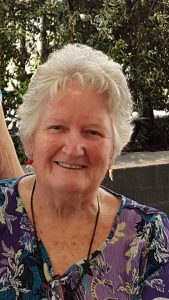 I cannot recommend the Life Minder Pendant highly enough.
After a recent life threatening incident while home alone, a nurse recommended the Life Minder pendant to me to ensure my future safety while home alone.
My family are also very happy that they are instantly alerted if I need to push the red button for help. They are very happy also, that they can actually speak to me through the built in phone in the pendant and that if someone does not answer, the pendant will simply dial down to the next family number until someone answers. This gives them, and me, great confidence in knowing how safe I feel in just wearing the pendant in case I need it.
I have totally regained my lost confidence in being home alone again and knowing when I go out into the community for shopping I continue to feel safe in being able to safely go out again.
Any issues I had while learning how to use the pendant was quickly resolved by a quick phone call to John Burgess, the wonderful CEO of Life Minder, who kindly made himself available 24/7 til I was confident in my use of the Pendant. I love having the assurance that if at any time I have any problem with the pendant at all that John is right there at the end of the phone to help me.
H. McCue
South Windsor NSW

I highly recommend the Life Minder Personal Safety Alarm.
When leaving my rehabilitation hospital, I was worried if I wouldn't be able to cope living on my own and was concerned that if I had a fall or felt unwell, I wouldn't be able to contact anyone for help. I was advised by my O/T to investigate buying an emergency pendant, she gave me some brochures on the different types available, after researching I decided to buy the Life Minder. I now feel safe being on my own, I have had a fall when shopping and the Life Minder rang my contact who answered immediately, and he came to get me as the Life Minder gave him my exact location where to find me.
The Life Minder has taken the worry I had of living on my own.
I would recommend the Lifeminder to anyone who wants to feel safe either at home or when outside.
Robert O'Neil Soldiers Point