Why LifeMinder
Highly recommended to eliminate daily risk to our seniors.
The Life Minder is a safety Personal Alarm that is attached to either a lanyard, key ring or in a pouch on a belt. The Life Minder is essential and recommended to assist in the everyday lives of our seniors that require that extra special care.
The Life Minder will become the best friend of the seniors who may live with many of the common medical conditions and disabilities that occur with the coming of age. The Life Minder will assist in eliminating the risk from falls or the sudden onset of acute symptoms or deterioration in their existing condition.
---
Risk of a fall at home and being Discharged from Hospital
Falls are common with seniors due to the ageing process which may reoccur due to instability, these in most cases result in damage to the hip and lower back area.
The concern is the seniors that live alone and are unable to move or get up to contact help. Most falls occur at home commonly in the shower or bath
The Life Minder will be the Life Saver in these circumstances, not being able to get up from a fall and just lying on a floor for a length of time would be a terrible experience.
Figure 1: This report card provides a snapshot of the data on falls among older people and the actions NSW Health are taking to prevent falls and reduce the harm from falls among older people. This Report Card was produced by the Population Health Division of NSW Health.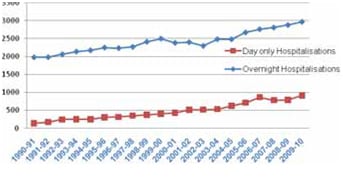 Falls among older people at a glance
Falls are a major cause of harm to older people and fall-related injuries impose a substantial burden on the health care and aged-care systems.
No other single injury cause, including road trauma, costs the health system more than injuries resulting from falls. In 2006-07 the total cost of health care associated with fall injuries in older people was estimated at $558.5 million The burden from fall related harm among older people is expected to grow as our population ages. It is projected that by 2056, between 23 and 25 per cent of the Australian population will be 65 years or older.
---
Falls are common among older people
In 2009, 25.6% of older people fell at least once in 12 months.
Among those who fell, 66.1% indicated they were injured as a result of their fall and 20% had to visit a hospital as a result of their fall.
The majority of falls among older people happen in and around their homes. In 2009, among older people who had fallen in the previous 12 months, over 65% indicated that they had most recently fallen in their home or yard.
---
Fall related injury is a major cause of morbidity and mortality for older people.
In 2009-10, falls among older people led to approximately 32,000 hospitalisations.
Fall-related hospitalisation rates for older people increased from 1990-91 to 2009-10 (Figure 1).
The likelihood of being seriously injured as a result of a fall increases with age (Figure 2).
Fall-related hospitalisations for older people are predicted to continue to increase as a result of our ageing population.
---
Risk of having a Heart Attack
Source:AIHW analysis of ABS Microdata: National Health Survey (NHS), 2014–15 Data table.
Heart attacks are one of the most frequent cause of death, Roughly a third of all deaths around the world are the result of heart disease and stroke, making cardiovascular disease the number one killer globally, new research finds.
Heart attack symptoms may be extreme, mild or may scarcely be felt at all. Symptomless heart attacks are called "silent heart attacks" and can be quite dangerous because it is essential that heart attacks be treated right away to prevent permanent heart damage, and without symptoms, it is difficult to get the needed treatment. Many heart attack symptoms may be confused with other problems such as heart burn or the flu. Common heart attack symptoms include a pain or a squeezing sensation in the chest.
This may be mild or extreme. Jaw pain or a headache are other heart attack symptoms, but in isolation, it would be difficult to associate these with the onset of cardiac arrest. Shortness of breath, nausea and vomiting may occur. There may be a pain in the back or the arm, usually the left and a vague feeling of illness or a general malaise. One fourth of all heart attacks are without symptoms and may go untreated for some time. Untreated heart attacks cause the most damage to the heart.
It is essential that treatment is applied immediately and to go to the nearest hospital. The Life Minder will alert the nominated mobiles to come to your assistance and hopefully save any ongoing heart condition or even save your life.
---
Inequalities
In 2014–15, the prevalence of CVD (based on self-reported data) among adults varied by remoteness and socioeconomic disadvantage (Figure 2).  Proportions were:
Highest in Inner regional (25%) areas compared with Outer regional and remote (22%) and Major cities (21%).
Highest in the lowest socioeconomic group (25%) compared with those in the highest socioeconomic group (20%).
Figure 2: Prevalence of CVD, people aged 18 and over, by remoteness & socioeconomic group, 2014–15.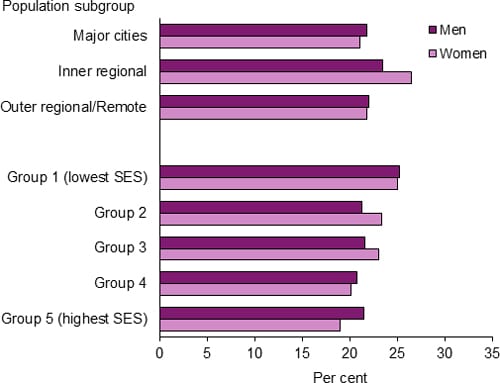 Notes
Based on self-reported above data.
Age-standardised to the 2001 Australian Standard Population.
Please see data table for information on remoteness and socioeconomic group classifications.
---
Living with Everyday Challenges
Whether you are living on your own or with your partner, living with conditions such as Epilepsy, Stroke, Multiple Sclerosis, Parkinson's or Dementia can be a challenge.
The Life Minder's technology has been developed to help you through these difficult days either by the press of the SOS button, from a fall or in the case of wandering from Dementia the Life Minder will send your location and call for the help you desperately need with an immediate response.
In the case of Dementia a GEO fence can be programmed around the house, an alert will be sent to all of the nominated mobiles that the person has left the home. The Life Minder can be tracked to enable to get the location at any time.
Take the stress away from yourself and family